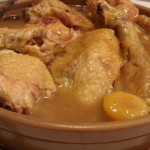 I will reveal one of my biggest secrets here.
I am in love!
I am in love with Costa Brava and also with its food. I usually don't like the Mediterranean food that much, especially because I don't eat seafood but the cuisine in Costa Brava got the best out of me.
My last time when staying in luxury villas in Costa Brava, we tried different kind of options when it comes to food – from healthy, to interesting flower meals, to traditional Catalan meals
Check out my favorite places where to eat in Costa Brava:
1. La Calendula
La Calendula in Girona with the owner and the main cook Iolanda who is very good on social media, expecially on Twitter and encourages the guests to tweet. She even has her own hashtag #gastroflors. Iolanda studied biology and all her meals are influenced by the nature. She uses flowers and herbs in all the meals and even picks them up herself in the forest.
The absolutely amazing menu I had there and will never forget:
Marigold tempura appetizer
cold tomato and strawberry soup with fresh cheese and flower petals starter
mint risotto with fresh broad beans with ecologic rice from Pals
Elderflower sorbet
forest herbs infusion tea
Gala de Flors – homemade beer of flowers ( I didn't try it as I don't drink alcohol but the oh-my-god faces my friends were making said it all)
2. Emporium
Emporium hotel and restaurant – run by 2 twins, one cooks and the other one serves, is a very special place. Situated in Castello d'Empuries so if you are visiting here, you just gotta have lunch/dinner at this restaurant. One of the best desserts I've ever tried (and I am a real dessert freak).
Our menu in Emporium hotel consisted of:
chocolate tender pinenuts
tomato biscuit with olive oil and romanin
beetroot cornet with anchovies and mustard – the smallest "ice cream" I have ever had in my life
mackerel with vegetables and partridge
cod with Santa Pau beans
catalan custard with red fruit, cinnamon and moscovado – dessert
grue cacao truffle
3. private chef Jordi from I cook It
The great thing about Jordi and his wife Ana is that Jordi does cooking workshops and when cooking, he explains what he does and let you cook with him. Jordi is based in Figueres but he cooked for us in the third Charming Villas house.
We could taste typical Catalan dishes. We started with the simplest dish which sometimes is the best one – pan con tomate. Believe it or not, but it was there where I learned how to make it. Just make a toast, cut a tomato in half and rub the pulp it into the bread until only the tomato skin is left and then use a bit of olive oil and salt on top. Delicious! We accompanied the bread with anchovies and guys also with pork and sausages.
Why tomato bread is so famous in Catalunya? Tomato got to Spain only in the 15th century from the American continent but it is said that the Catalan cuisine started using tomatoes during the Spanish Civil War when people had not much more than tomatoes to go with bread.
Then Jordi showed us how to make cold Spanish gazpacho soup but not only with tomatoes but also strawberries. Gazpacho is a summer dish to cool down your body, that's why it is made cold and not hot.
Jordi also showed us quickly how to make suquet juicy seafood stew but as I don't eat seafood, he prepared a special one for me with just fish. Liked the combination with the potatoes.
The funniest thing was to learn how to make a very traditional Spanish dessert Crema Catalana (Catalan Cream) that is widely offered in the restaurants all over Costa Brava and also other parts of Spain.
I never realized you have to burn the sugar on top of the cream to caramelize it. Jordi used a heated iron with a spiral shape. You learn something new every day, right?
This new restaurant situated in the old tow of Cadaques was my favorite one when it comes to starters and then all the different cheese used in most of the dishes. Founded by three friends who initially worked together in the famous elBulli restaurant, now put all the magic together to create Compartir meals. Very young and friendly atmosphere, together with modern design and lovely staff is all you can find here. And then all the delicious meals, OMG!
I fell in love with this place already when we were served beetroot appetizer with cream. I swear to God this was the best appetizer I have ever had in my life and even containing one of my favorite ingredients ever – beetroot. I could eat this every day, true story! Fish, other pica-pica and the desserts (e.g. the cinnamon-berry ice cream) were of high quality and taste too.
Located just at the waterfront of Cadaques in a beautiful historic building with pretty ceiling, can be a great place to dine out if you are staying in Cadaques and would like something close by. I had fish, vegetables and tasty dessert – a home-made cake.
Lee cooked dinner for us when we stayed in Sa Costa luxury villa in Cadaques the first night. I was pretty tired after all the traveling that day so I couldn't enjoy the dinner as much as I would love to. But the spinach with chickpeas, potatoes and then apple pie with strawberries? I am sold!
7. El Celler de Can Roca
You won't believe me but we did visit the second best restaurant in the world – El Celler de Can Roca! It was founded by three brothers, Jordi, Joan and Josep Roca and the restaurant was awarded the third star by the Michelin Guide. We had a little tour of it to see the behind the scenes, how busy everyone there is to make every experience there the best ever! We were also lucky enough to enter their wine cellar. OMG, so many wine bottles!
8. La Barretina d'Orfes
This restaurant situated in the little village of Orfes. This restaurant doesn't have a website and is pretty non-existent on social media too but if you find your way there, you should definitely pull over to get the most traditional Catalan food here. Very rustic, but so delicious. It is not the best place for the vegetarians though. But meat was pretty tasty (I had chicken and fish as I don't eat red meat)!
PS: If you want to taste the most delicious vegetarian paella ever, ask Joan 🙂 It was as finger-licking as big it was!
PS 2: If you are staying in Cadaques, or anywhere close by, and would love to meet up with the most handsome guy of the whole town, go to Can Rafa and ask for Rafel 😀 He can really cook as he did cook for us in their wineyard Celler Martin Faixo. Loved the white beans and the tomato bread with anchovies, my favorite there (I mean after Rafel's pretty face :)) And the whole family of Martin Faixo are sweethearts!