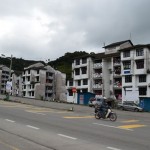 I am not a person who goes hitchhiking a lot. When I am alone it feels a bit weird and I am not used to it, I guess. And also, it is no secret that I have no patience. So even waiting for a few minutes makes me nervous and, or I just want to jump in front of a car to make it stop, or just to take the dumb hitchhiking idea out of my mind and go to pay for any kind of transportation available.
But there is still a bunch of places where I did hitchike and I would like to share my experience with you.
1. Snina – in my home town in Slovakia I hitchhike pretty often but it is always with my mom only. When we go tomy grandparents house in a village 10 km away and we don't make it to catch a train/bus, we hitchhike. I don't think it has ever taken us more than 5 minutes because many people know us here so they stop to take us. We also hitchhike when going to the Rybniky swimming pools in summer or to the closest town Humenne.
2. Spain can be tough for hitchhiking, I learnt this when trying to hitchhike in Madrid but it deserves a whole separate story.
3. The only other time when I hitchhiked in Slovakia was back in summer 2005 when me and my best friend of that time decided to hitchhike to Madrid. We just spent 5 months there during Erasmus scholarship at the University and just after a couple of weeks back home we missed our friends so much we wanted to go back for summer. The only problem was that I ended up in Italy instead of Spain then.
4. Ipoh – Malaysia. Ipoh turned out to be a hidden gem not many tourists know about yet. I don't even think I have seen any other tourists during my 2 days in Ipoh and the looks I was getting from the locals just proved it. One of the most beautiful things one can do here are no doubt the temples just outside of the town. I did take some buses but also did hitchhiking to get to the rest of the temples. It was around 10 minutes to make an Indian guy to take me to Kek Lok Tong temple where I was headed. He even waited there for me to take me back to Ipoh.
5. Cameron Highlands – Malaysia. I spent just 2 days of my holidays in Cameron Highlands but I would regret it for ever if I did not bother to visit at all. The mountains are such a marvelous place to visit with all the fresh fruit, beautiful flowers and butterflies, tea plantations and strawberry farms. I knew before I went there it was very popular for hitchhiking so I just stuck my thumb up between each 2 destinations on my bucket list. Absolutely easy to stop even the first car coming. The only small problem I had was to get to BOH Tea Estate so I walked there but on the way back a car with a young couple stopped to ask me if I needed a lift.
6. El Calafate to Perito Moreno glacier. It is not cheap at all to take a bus with one of the travel agencies to take you from El Calafate to Perito Moreno glacier and back. I met up with an American girl in El Calafate with who I traveled together already for a bit before and we said yes to hitchhiking. I have to say our local friend Pablo warned us saying
You will not get any car going to Perito Moreno as just organized buses go there. But if you still want to try, go early morning.
So we listened to him and around 9 am we were already at the outskirts of El Calafate taking turns with a thumb up. I lost all the hope after 30 minutes as it was definitely the longest hitchhiking I have ever done. At that moment I sweared to myself I was never going to hitchhike again and I have not ever since. At least not until December 2012. But in the end a huge truck pulled over. Yes, 4 crazy Argentinian guys were staring at us with their mouth open, but come on, some 20 euros saved on the bus was worth it. It even turned out to be a perfect day at Perito Moreno glacier.
I know some people do hitchhike regularly. The friend I went to Perito Moreno with is one of them. Another friend, Arne, I met as well that day hitchhiked most of the route from Argentina to the US.
What is your experience hitchhiking around the world?