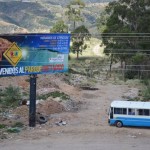 In my opinion, visiting Cretaceous Park is a must thing out of 12 things to do in Sucre, Bolivia.
To get there take a bus number 4 from Sucre and get out at the last stop at Parque Cretácico just a few minutes from Sucre town.
I was surprised when the bus driver told me to get out just outside of a cement company, it all looked destroyed around. But once I climbed up the hill and paid the entrance (30 Bolivianos for foreigners, 5 bolivianos for the camera), I understood why.
First, once I walked the hill up to the Cretaceous Park in Sucre, I watched a video about the dinosaurs and their life. Then a guide walked me around the park and explained me some important facts. We saw some replicas of different species of the dinosaurs, including the biggest titanosaurus tall 18 metres and long 36 metres which is the biggest sculpture of the whole world.
We can see a replica of ankylosaurus which footprints were discovered in the South America for the first time here in the limestone wall.
It was the wall around the park which I saw from the main road but had no idea what it was about until the guide showed me. There were so many huge dinosaur footprints on it! It was because the mud covered them throthout the
Only in 1994 the cement company Fancesa found at this place what is now the world's biggest paleontological site – Cretaceous Park in Sucre. It is around 1,500 metres long limestone wall of Cal Orck'o, tall 110 metres that is covered by dinosaur tracks that died some 68 to 65 million years ago. There are around 5055 dinosaur tracks of at least 8 to 15 species and 320 different animals. There we can see 581 metres of continuous walking of a middle size carnivorous which is the world record of dinosaur tracks in one place.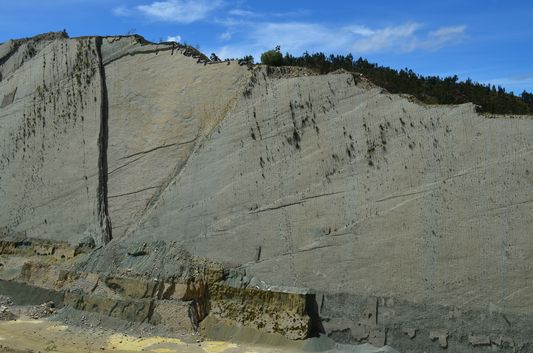 I really enjoyed looking at the tracks at the wall, and all the life-sized dinosaur statues. There is also a souvenir shop and a museum with a lot of fossils, dinosaur bones and a replica of a dinosaur found in Chubut province in Argentina. Outside of the museum you can learn more about the past of the area from the pictures and explanations. I am really happy I paid a visit to this parque cretacico as I didn't know it was the world's largest dinosaur tracks site. And as I was sick and couldn't do the trekking to Crater de Maragua observing dinosaur tracks in the nature, I could at least visit the park and see some dinosaur footprints there.