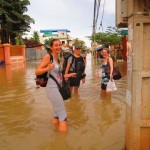 I used Couchsurfing when I visited Bangkok for the first time in October 2011 and surprisingly found 2 Czech girls and 1 Slovak girl in there. We soon became friends, especially with the Slovak girl Monika. After exploring Bangkok with her for a few days and having fun in a rooftop swimming pool with the view of whole Bangkok (for free), we took our adventure to the next level and went to explore Cambodia and a bit of Siem Reap and breath-taking Angkor Wat. It was a lot of fun with the area flooded. Just check out our photo together in Siem Reap when trying to find our hotel Mandalay Inn 😀
Afterwards, we reunited with Monika in Thailand again and then in Slovakia and we are very good travel buddies so I am sure more trips together will come soon 🙂
Find out more about this funny girl:
1. Who are you? Tell us something about you.
Cool chic with diverse background, lived in 5 different countries for past 6 years. I love traveling and getting to know new people.
2. What is your favorite place, city and country and why? (all three of them)
My most favorite would be Mexico where I spent a year during my studies, loved the people, food and culture (*another thing we have in common with Monika and our favorite country Mexico).
My favorite city would be my hometown Bratislava 'cause I know it so well and have my family and friends based there. 
Then it'd be NYC a place I felt in love with immediately. 

Favorite country Italy 'cause the Italians are so gooood looking and they make amazing pasta LOL
My another favorite one is Monte-Carlo despite its glamour I know some nice places there and I still have some friends left from my studies.
3. If you could go anywhere in the world tomorrow, where would it be and why?
Caribbean or French Polynesia but I have it on my list for honeymoon destination 
but if I could have a chance to get on a plane … I'll go to NYC for some shopping or to Mexico to visit my friends.
4. What do you love the most about your home country?
Food, atmosphere, our passion for hockey and hospitality.
5. How travel changes you?
I became more open-minded, don't judge people based on the 1st sight..maybe on the 2nd hahahaha.
Thank you, Monika for the answers. Will definitely see you again soon, I think in Bratislava for some party 🙂
Love,
Alex