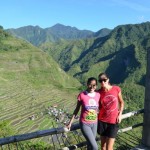 I don't even remember when and why we started talking with Mica. I just remember that she was always nice to me and I got a message from her just after I posted I was going to Asia in late September 2011. She persisted I should visit the Philippines too when going to be close and I agreed. We met, we spent a few days together in Manila, attended the crazy Captain Morgan party with some hot models, and then we explored beautiful Batad rice terraces and Mica's home place.
And you know what? We both happened to have a T-shirt with the same "no boyfriend, no problem" on it 😀
I love this girl and she is one of my best friends since we met back in November 2011. One of the examples that proves meeting new people when traveling is WORTH IT!
1. Who are you? Tell us something about you.
Mabuhay! I am Mica Rodriguez, a twenty-something blogger from the
Philippines. I love eating, traveling and making films. It is a dream of mine to
do movies while traveling. I will do my best to turn that dream into reality
soon. I do maintain a number of blogs (two of which are senyorita.net and
micamyx.com). I also write for a local tabloid in the Philippines.
2. What is your favorite place, city and country and why? (each one of them)
This is hard! Do I have to pick one only? If that's the case, I'd choose
Camiguin Island in Northern Mindanao. I am mesmerized on how this place is
mysterious yet beautiful at the same time. They have mountains, volcanoes,
cold and hot springs, white and black beach, a sunken cemetery – all in one
island!
My favorite city would be London. I love everything about it except the
cost of living. I stayed there for a few weeks and my love for travel and
performing arts became more intense after that trip.
Of course, my favorite country is the PHILIPPINES. I would love to visit India,
Spain and explore more of the United Kingdom.
3. If you could go anywhere in the world tomorrow, where would it be and why?
Spain. I heard that Spanish people are passionate and artistic. I want to learn
how to dance Flamenco too!
4. What do you love the most about your home country?
I love the food, the beaches, the variation of culture and the people.
5. How travel changes you?
Travel pushed me to step out of my comfort zone. Being an obedient and
sheltered kid way back when I was still studying in Pangasinan, I've always
thought that I couldn't travel on my own. It also transformed me into a risk
taker and worry less (especially on the financial aspect LOL). I've met a lot
of people from different walks of life and learned from each one of them.
Traveling keeps me inspired and happy that I am living my life.
A lot of love, Mica and thanks for the answers 🙂 Missing you!
Alex