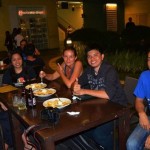 I met a lot of interesting people when in the Philippines in November 2011. It was amazing 3 weeks there and I just I spent more time in there, if only visa let me!
Already before I visited, I talked online to some Filipino bloggers and then we met later on there. One of them was Ed, a guy who really knows what he is doing 🙂
So Ed,
1. Who are you? Tell us something about you.
My name is Edcel and I blog at soloflightEd.com. I'm currently backpacking in Southeast Asia after I quit my day job of 6 years in the Philippines. I'm living as a digital nomad where I bring my work with me wherever I go. I also enjoy performing headstands and crazy stunts in my travel adventures (oh yeah)
2. What is your favorite place, city and country and why? (all three of them)
Place – I love the beach! I love the sun.
City – Singapore, it's very organized.
Country – Aside from my home country Philippines, Cambodia. Very relaxed and the people are genuinely friendly.
3. If you could go anywhere in the world tomorrow, where would it be and why?
Dubai, I'll go there. I need to be there.
4. What do you love the most about your home country?
So many islands, so many beaches, so many places that are waiting to be explored!
5. How travel changes you?
It broadens my perception towards life because of being exposed to other places and culture other than my own.
Thanks so much for this quick interview, Ed.
Love,
Alex