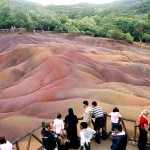 I have traveled to more than 45 countries, and if you've been following me, then you know, I am all about exotic destinations where I can just lie down on the beach and indulge in the sun beams.
Yet, for some strange reason I have not had a chance to visit Mauritius.
It is definitely one of the top countries on my bucket list, though and I cannot wait to fly there for a few weeks.
Thinking out loud … Maybe I have not been to Mauritius yet because I am still single and it looks more like a perfect honeymoon destination to me. However, I am pretty sure once I get to that stage of my life when I will start thinking of having a family, I will check out honeymoon resort packages to Mauritius, no doubt.
But for now, I can only day dream of 2,000 square km small island located around 2,000 km Southeast of the African continent.
Palm trees, beach, sunsets and a cold drink in my hand while letting go of every negative thought on my mind. Yeah, life on a sunbed with birds singing above my head and pleasant breeze playing with my hair?
Sounds like paradise to me!
Searching online, I found out there are many different things to do on Mauritius.
Nature and wildlife
Knowing me, you can bet I would spend the most time just beach bumming on one of the white sandy beaches and then in between visit the main spots. It seems like the nature of Mauritius would capture my eye straight away. From the tea plantations, Crocodile Park (where I could observe my mum's favorite animal), to the Ile aux Aigrettes Nature or the Reserve and Casela Nature & Leisure Park known for its zebras, birds, lions, and also quads and zip line adventures.
The island is known for its unique wildlife species not found in other parts of the world. Before the year 1500, there were no terrestrial mammals which allowed a lot of reptiles and flightless birds to develop on the island. Now Mauritius is home for example to the cutest green and brownish ornay day gecko with red dots on it.
And have you heard of the Seven Coloured Earths geological formation in Chamarel? These surrealistic sand dunes of yellow, red and brownish colours have been the main island tourist attraction since the 1960's and are definitely on my bucket list.
If you are into pleasant hiking, then the Mauritius mountain ranges of volcanic origin are there for you. The highest peak Piton de la Petite Rivière Noire is just 828 m a.s.l. (which is still 178 m less than the mount next to my home town Sninsky Kamen, also of volcanic origin which seems like my kind of hiking.)
The world's third largest coral reef surrounds the island which gives its visitors a perfect reason to snorkel or dive, as well. Many other sporting activities, together with the catamaran cruises around can be done on the island.
Culture
Due to the history, the mixture of different cultures makes it very intresting to visit – Portuguese, Dutch, English, French, African, etc. Many colonial houses are also among the things to do on Mauritius. Tourist markets attract the island's visitors in search of souvenirs for their family back home.
What surprised me personally is for example the sugar cane plantation which for some reason I had no idea I should expect in this part of the world. It reminded me of my visit to St. Kitts and Nevis islands in the Caribbean with many old cane plantations around that were transformed into chick tourist accommodation.
Luxury
According to Wikipedia, "Mauritius received the World Leading island Destination award for the third time and World's Best Beach at the World Travel Awards in January 2012."
Luxury, luxury and more luxury – if you just need to switch off and pamper yourself, then there is no better place than Mauritius. The island is full of all inclusive four and five star hotels and it would be a great fit for my Adventure and Spa project as there are awesome spas and the island also offers many adventure activities.
I can tell you for sure now that I am going to plan a longer visit to Mauritius, stopping by at Madagascar and more countries in Africa. Until now I have paid only 2 visits to Egypt (Hurghada both times) and 1 to Tunisia, but all the other African countries are still waiting for me 🙂