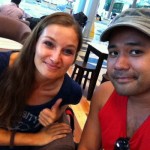 After I walked around Singapore for 2 days and enjoyed night photography in there, on my way to Hong Kong I met Ron at Singapore airport for a coffee and a chat. We missed each other in the Philippines where I went after, so I guess next time 🙂
Hope you enjoy to get to know Ron better below:
1. Who are you? Tell us something about you.
I have lived in different corners of the world, but I still call the Philippines my home. Currently living in Singapore, I am an artist who has trained as a nurse, and currently works as an investigator.
I am the traveler and story teller of FLIPTRAVELS.COM, where you can read my escapades (naugthy and otherwise). I am recently joined the cast of the first reality travel web series in the Philippines, PHL360.com.
2. What is your favorite place, city and country and why? (all three of them)
place – My favorite place to date is that small corner on the bank of Mekong River in Luang Prabang. It's so peaceful I forgot the whole world was moving. A place I will always want to visit over and over again to do nothing but drink a bottle of ice-cold beer.
city – I'm not really a city person, contrary to the fact that I live in one, which is the bustling metropolis of Singapore. But my favorite is the long abandoned city that was the glorious Angkor, the first densely populated city in history. I fell in love when I first saw it. The sight of the gopura behind the trees, almost made me drool. I swear, I heard a choir of angels singing symphony #9.
country – I love my home country, the Philippines. There's so much to see and the 7,107 islands will never get short of things to see and experience, not to mention the colorful and welcoming people that will make you want to stay longer.
3. If you could go anywhere in the world tomorrow, where would it be and why?
Morocco. I have never been there but it has been sitting in my bucket list for the longest time. I vividly dream of the Medina and I swear I can smell the myriads of street food grilling and brewing that it made me want to stay asleep until I get the time and money to fly there.
4. What do you love the most about your home country?
I love my home country, the Philippines. It's amazing how a plethora of colors, cultures and anthropological textures co-exist under one flag. The flavors, sights and sounds can excite the most jaded senses.
5. How travel changes you?
I realized that traveling is more than just posting the pictures in Facebook and telling the whole world that you've been there. It's a dynamic learning experience. The world is a beautiful creation, a gift from Someone and we shouldn't miss it. Our planet is a book, and we can only flip its pages if we travel.
Was nice meeting you Ron and I enjoyed your answers. Thanks again!
Love,
Alex