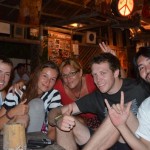 I met Matt Fagg through Couchsurfing when we were in Thailand both at the same time. After not being able to meet, we finally spent a few hours together and some more friends on Koh Lanta island. Then Matt during his European trip visited Slovakia at the time when I was at home so he spent a few days in my home town.
WARNING: Never force Matt to drink Slovak plum brandy slivovica … unless you want him to punish you with a painful massage and acupuncture 🙂
So Matt,
1. Who are you? Tell us something about you.
I'm Matt Fagg, a physiotherapist by profession, though I rarely seem to be working! My life generally revolves around chasing the sun, moving to tropical areas in winter, and to beaches in the summer. I am a competitive basketball player, and enjoy almost every sport in the offseason. I love a simple life, and nothing makes me more happy than swimming in the ocean under a sunny blue sky, knowing that life is great and I am free…if I have a beer in my hand and have beautiful women around me then that is even better 😉
2. What is your favorite place, city and country and why? (all three of them)
In life I find it very difficult to pick favourites, because my tastes are quite diverse and it is hard to compare two things that are completely different…but these are definitely in the top 3:
Place: Gili Trawangan, an island in Indonesia not far from Lombok and Bali. I spent one week on this paradise and completely fell in love with the place. A place where there is no stress, there are no cars on the island, the weather is always warm…each day when you wake up you can decide to do whatever you want, from surfing or scuba diving, to sunbaking on the perfect white sand beaches surrounded by impressive mountains. Everything is really cheap, and some of the food I had at the markets was amongst the best I have had in the world. The relaxed and happy atmosphere on the island makes it easy to meet travellers and locals alike, for me it is one of the perfect places I have experienced 🙂
City: I am not a big city person, so while I have been to some very impressive cities in different parts of the world, I would have to pick my favourite from some smaller places. Cairns in Australia is one that comes to mind, only a small city, but there is always something to do. The great barrier reef is just offshore with the best diving that I've ever had…There are tropical rainforests everywhere…you can drive along the coast road with mountains on one side and water on the other, and the weather is never cold! Plus the city is always filled with many interesting people from around the world!
Queenstown in New Zealand is another favourite, set on a lake surrounded by impressive mountains, you can go skydiving, skiing, jet-boating or frisbee golfing 😉 Another special place in the world!
Country: My favourite country is of course Australia 😉 But more about that later…If I was to pick a country that I have travelled to, then Norway has to come on top. 3 of the most amazing experiences of my life surrounded by the most beautiful mountains, lakes, rivers, fjords that I have ever seen! The island of Tromsø at the top of the world, inside the arctic circle, surrounded all around by snow-capped mountains despite the sun being up 24 hours/day is a remarkable place, I remember having a smile on my face all day, and feeling overwhelmed by the unique and remote beauty of the place. Hiking to Preikestolen and Trolltunga, meeting random friends along the way and having everything work out completely perfectly despite being stuck in such a big country by myself with no car, tent or plans are experiences I will never forget! Norwegians are among the most hospitable and helpful people I have met as well, definitely a country that is close to my heart 🙂
3. If you could go anywhere in the world tomorrow, where would it be and why?
Maybe just some random un-populated point on the map, because if I had the power to be anywhere in the world, then it would seem silly to go somewhere where I could just get a train or plane. I would enjoy the challenge of trying to survive and find my way back to safety, and to be able to say that I've been in a place that noone knows about!
4. What do you love the most about your home country?
I love a lot of things about Australia!! The amazing beaches, coral reefs, rainforests, deserts, vineyards, waterfalls, animals and a whole heap of other natural things that I could list forever….The freedom of living in the country and the life I can choose to live, following the good weather 12 months of the year and knowing I will always have a job in whichever city or town I choose. Australian people were voted the 2nd most friendly in the world, and I love being able to know that wherever you go there are friends waiting to be met. And of course my friends and the Australian sense of humour, I always love laughing hard at ridiculous things with old friends, this is something that is hard to find on the road.
5. How travel changes you?
I am a different person when I travel, definitely. I am not worried about time, I am looking at the world in a different way, each day is another adventure, and not part of the same routine. There are lows and highs of energy, and I am generally more tired from always doing things, talking to new people, partying etc. but I am always in some kind of happy mood! I think by experiencing different cultures and standards of living you can also get a fresh view on life. When I went to Asia I saw guys who earn $5/day if they are lucky, eating rice everyday and living in small huts with their families, and they were generally much happier than most people I see living in cities in the developed world, complaining about traffic, the weather, and the price of their daily coffee.
Thanks so much, Matt. Not so many thanks for the very painful acupuncture you gave me … and the pain all the days after 😛
Love,
Alex