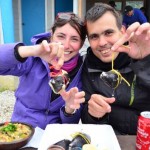 You would never believe how the small world really is until weird things like this one happens. South America is HUGE but miracles still happen. I guess it must be because many travelers follow more or less the same route when there visiting the most famous destinations. And so did I in Argentina and Chile … and the couple Rachele and Gábor too. We first met on the bus from Ushuaia to Puerto Natales. Then hiking in Torres del Paine, and again in El Calafate, El Bolson, El Chalten, Bariloche and all this by accident 🙂 So then we planned a trip together finally and visited lakes around Bariloche, stayed in nice Molino Viejo in Puerto Varas and took a ride through Chiloe island.
It was not just fun to travel together but also to talk about "business" of blogging as Rachele and G started a blog Surfing the Planet.
Here they are – Rachele and Gábor from Surfing the Planet:
1. Who are you? Tell us something about you.
We are Rachele (Italian) and Gábor (Hungarian), a couple doing the round the world trip at the moment. We both are fond of travelling, and travelled quite a lot in Europe before meeting each other. The round the world trip had been a dream for both us even before met, and after meeting in Barcelona a couple of years ago, we soon decided to make our dreams real. We started our trip six and a half months ago, we spent almost half a year in South America, and at the moment we are travelling in New Zealand. What we like the most about travelling is not only discovering amazing places, but when we have the possibility, we try to get in a closer connection with local people through Couchsurfing or any other manner. We try to spend a day like they do, and learn from them as much as possible.
2. What is your favorite place, city and country and why? (all three of them)
Gábor: These questions are always rather difficult to answer. As I am a mountain lover, my favorite place would be some of the most beautiful mountains I have been hiking around, can be the beautiful towers of "Las Torres del Paine" in Chile or to say something really recent, "Mount Cook" as it reflects in the lakes. My favorite city as a tourist is New York, this cosmopolitan city where you can listen to people speaking in different languages in every corner, and all this in the atmosphere that reminds you of watching one of your favorite movies. However, if I had to say in which city I would live, it would be Barcelona probably, also very international atmosphere, perfect climate, the sea and mountains are close, intense sportlife, at the moment the only thing you can't find there is a decent job. My favorite country is the most difficult question, I prefer countries in which people are friendly and open to connect. Spain fits more or less for this, from recent experiences I would say Argentina.

Rachele: As Gábor said is quite difficult to decide which place is the favorite one. There are too many fantastic places in the world. I can tell you the experience that I like the most. Close to Cuzco we went up to the Andes in a village and we spent two days living as they live. These people are really poor, they live in a simple way and most of them they are not going out the village neither at the closest city that is just 30 km from there. This experience made me reflect a lot and I really enjoy to experience this kind of life style.
3. If you could go anywhere in the world tomorrow, where would it be and why?
Gábor: If I can fly tomorrow to any places, probably would be New York again, just to get absorbed in this unique atmosphere that this city provides. If it had to be a place I have never been to, it would be Colombia, which we didn't have time to visit in our South American trip, and would love to go there and meet its friendly people.

Rachele: At the moment we are doing the greatest trip of our life and I won't fly anywhere tomorrow, I am just happy and living this great moment.
4. What do you love the most about your home country?
Gábor: I love my country, and I am really proud of being Hungarian. Our country always achieved more than it would be expected from its size. You just have to look at the number of Nobel Prize winners we have had or in the Olympic Games, we are always in very honoring position in the medal table. I love in my country, even if it is against us, that general intelligence is still considered to be a really important thing, people admire someone more for being expert in the History of the Middle Ages than someone who had a really great business idea. At last, our cuisine is unique and fabulous, I always miss our dishes when I am abroad.

Rachele: My home country is simply brilliant. Italy has lot of good things, history, culture, fashion, good food I love all of them and I am really proud to be part of this country. The place in Italy I love most is Venice, that is a unique city in the entire world. I have been there a hundred of times and never take the same street, it is like a labyrinth in which is amazing to get lost. Every corner is different and special at the same time.
5. How travel changes you?
Travelling is definitely the most life changing experience, especially if you do it for a long time. Travelling as a backpacker make you do a lot of sacrifices, you can't have many of the luxuries that you have in your every day life, you become more flexible in any sort of sense. At the same time, as we travel mostly around countries, where most of the locals live without all these commodities of the society, it opens your eyes and makes you think deeply every day about how much you really need them.
Miss traveling with you two and running into you by accident all over!
Love,
Alex