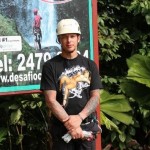 I met Chris when rafting on Pacuare river in Costa Rica. We both happened to travel around Costa Rica for a few weeks at the same time and met when decided to try that crazy rafting on one of the top ten rafting rivers in the world. With all the cool tattoos and muscles he has, he looked much more suitable for rafting than me, a beach girl 😀
I just wish we had more time to talk … but maybe we will meet again somewhere else in the world or when I go to visit Canada in 2013 🙂
So Chris, tell us more about you and your traveling:
1. Who are you? Tell us something about you.
My name is Christopher Stetson, I'm a heavy duty mechanic for a CAT dealership in Canada. Which means I fix big machines that say Caterpillar on the front of them.
2. What is your favorite place, city and country and why? (all three of them)
I can name my 3 favorite places that I've been which are:
A) Phuket, Thailand I loved all of the beaches that were in the area and the night life was pretty crazy.

B) Vancouver, Canada I love this city for the people and the scenery. It is a beautiful with lots of parks, beaches and cool bridges.
C) Varadero, Cuba I love this place for the beaches white sand for miles and the people are great. Awesome rum and cigars! But most of all for the fact there wasn't any Americans there!
3. If you could go anywhere in the world tomorrow, where would it be and why?
Cairo, Egypt because of the history… I'm kind of a nerd and love history.
4. What do you love the most about your home country?
I love everything about my country, I love the reputation that we have with the rest of the world. We are a peaceful place that everyone else in the world generally likes.
5. How travel changes you?
Traveling has made me more thankful for what I have. It has made me less shy and more out going then I was. It has totally made me a better person.
Thanks Chris for the interview. Hope to see you around the world again for some crazy adventures 🙂
Love,
Alex