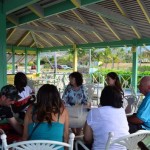 When we visited Nevis island and went all around Nisbet Plantation to check out the place where Fanny Nisbet, the wife of Horatio Nelson, used to live, we had a great chance to meet Reginald Douglas, the famous sportsman of Nevis.
Reginald Douglas aka Reggie didn't look for his 36 years at all and I really thought he was joking when he said that. Born on Nevis but his family is from Antigua (his mother was adopted on Nevis). Drinking water, Reggie started telling us that he swam from Nevis to St. Kitts 5 times which takes around 1 hour.
Some people swim this for fun or do snorkeling as it is shallow and you can see the formation of 2 islands here.
He trains people not only when it comes to sports but also shows them fishing. Participating in cancer races to raise funds was just one of the many interesting things I learned about this always smiling sportsman. 
Reggie runs and cycles for triathlon and this is also what made him famous. Started in 2007, then in 2010 he participated in Australia too where he finished as the 46th in his age group out of 2,000 people. He did triathlon also in Switzerland. In Trinidad and Tobago he won, he races in St. Maarten, and he won the International Triathlon on Nevis in 2007. In 2003 Reggie also did his first Ironman as the only Caribbean guy who did half Ironman on vegan diet (as a vegan myself I have to give him thumbs up for this!)
After Reggie turned 30 he started eating fish again for extra protein. He does advertising for Nevis island on his sports clothes and works with sponsors from local business, tourism boards, EPIX gear from the US which makes it very similar to travel blogging as we get some sponsors too.
Nevis terrain is good for sports – it's relaxing, the weather is great, many athletes come here to train.
He is trying to be as safe as possible but ran into a monkey during a race and got a blood clot and almost died.
Nothing is sweeter than when you get your eyes on something – a goal
Reggie told us his take on Lance Armstrong taking drugs – his French team left him when he got cancer, he came back with the US sponsor with a lot of pressure on his shoulders and couldn't make it which lead to drugs.
Nowadays Reggie does less triathlon but concentrates more on cycling and mountain biking. He even started Nevis Adventure Tours with GreenEdge Bike on Nevis. And he also helps some youngsters with sports as it helps them with their education too.
I didn't know what to expect from our interview but in the end it gave me a lot. Not only I knew some things about Ironman and triathlon from my American ex boyfriend who was training for them too, but Reggie also inspired me so much when he was talking about the kids or anyone who he is helping to train and move forward. Every inspiration is good.