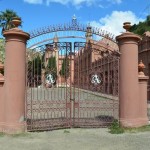 I think that Castillo de la Glorieta is one of the places you should visit in Sucre, Bolivia. At least I mentioned it as one out of 12 things to do in Sucre.
The castle is open from Tuesdays to Sundays from 9 am to 4.30 pm. The entrance fee for foreigners is 20 Bolivianos with 10 Bolivianos if you want to take photos/videos. You can get there by a local bus number 4. The castle is situated just 5 kilometres from Sucre on the road to Potosi.
The Castillo de la Glorieta in Sucre was the home of Don Francisco de Argandoña and his wife Clotilde. It was built in the end of the 19th century (finished in 1897) in the eclectic style by the architect Antonio Camponovo together with and Argentinian architect. The castle is one of the most curious buildings from the republican period and mixes the styles, such as Gothic, Manierista, Baroque, Rococo, Neoclassical and Spanish Mudejar. It is one of the most important buildings that the husbands left behind and that reflects the places they visited in Europe.
The husbands were made Prince and Princess of the Glorieta in 1898 by the Pope Leon 13.
Castillo de la Glorieta was declared a "National Monument" in 1970.
There are three towers in the castle: the English Gothic Church Tower reminds of London Big Ben, it's 25 m tall and has 4 watches. The second tower is the one of the Princess Tower of Arab style and 30 m tall. The last tower is the tallest one – the Prince Tower (of Russian Byzantine style) which has 108 steps and is 40 m tall. I climbed it up and got a cool view of the surrounding areas and the military base outside the castle.
Apart from the towers, the garden and the chapel, there is not much to see inside the castle. The rooms are mostly empty, just some beautiful old mirrors and remains of the beds are there.
But from outside it is a very unique building because of the mixture of the styles. I am not sure if the castle is worth visiting from the inside as you have to pay, but definitely recommend you to see it from the outside at least. Castillo de la Glorieta in Sucre has also a lovely patio with a garden with palm trees.
Nowadays, Castillo de la Glorieta first owners – the Argandoña husbands are buried in one of the mausoleums of the cemetery in Sucre.
I am happy my plans changed completely when in Sucre I had to give Sucre – white city of the America a third chance. Only because of it I was able to visit Castillo de la Glorieta.