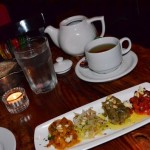 10 days in San Francisco were really enough to fall in love with San Francisco so much, it became my second favorite city in the world. It is also because its delicious food at every corner.
The best restaurants in San Francisco:
Definitely one of my top restaurants because I love Catalan cuisine. I had dinner there twice, even had my own cute little table by the window and left with a full satisfied stomach. The owner is always there smiling and he even gave me the best CD with SF and Barcelona songs! Both cities are my top 2 places in the world so I see there is no coincidence in this world 🙂
I highly recommend trying:
starters:
salad Empedrat – bacalao, baby white beans, salad olivada
Escivada Tapas – warm roasted vegetables, cabrales, pine nuts, roasted garlic oil – a traditional vegetarian dish which denominates the process of grilling the food, BBQ usually done in Costa Brava from February to April. Here in the restaurant charcoal is added to olive oil to make it taste like grilled.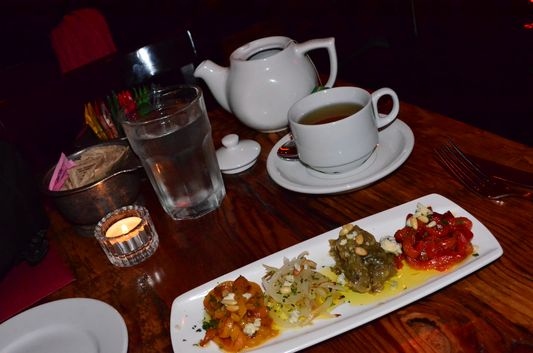 main dishes:
Paella hortelana – saf from rice, mushrooms, vegetables, red bell pepper, pine nuts, currants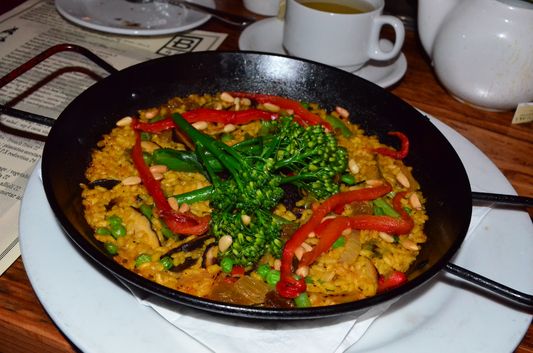 Ahi tuna – a la plancha, avocado, baby lentil salad, soy and cava vinaigrette
desserts:
Lionesas del Penedes –  cream puffs, ice cream, warm cocoa sauce, toasted almonds)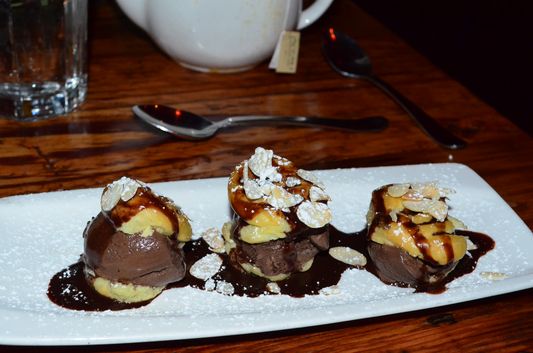 tarta de chocolate y platano – warm chocolate, black pepper and banana tart, creme anglaise, candied walnuts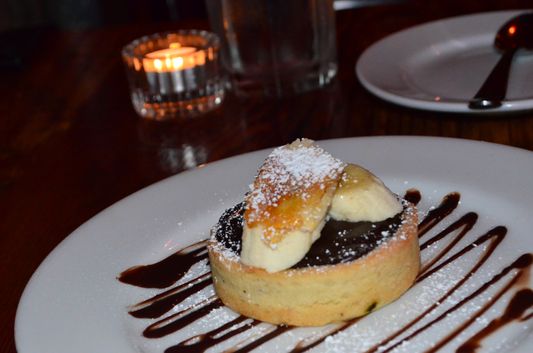 Just a few metres from B44. Very French and stylish with also some Italian desserts. I had 2 dinners in Plouf too. Fresh bread with butter and the lovely atmosphere (and if you drink a glass of delicious wine) are the best to start with. I really liked the lights and the candles on the tables and the energetic waiters. The owner is very professional too. And there's a super guy working behind the bar 🙂
Out of many salads, sea food and meat Plouf specializes in, I chose my favorite quinoa with artichokes, also fish with a salad and very yummy dessert.
For sure my favorite Italian restaurant in San Francisco. I was there twice as well, once for lunch and once for dinner with my friend Annette from Bucket List Journey. We also met with the owners Maria and Giovanni, they are both so cute! It reminded me of my days living in Brindisi, Italy –  the atmosphere, the best meals ever, and just everything Italian. Hard to say no to it.
We had A LOT of food here! Starters, pasta, desserts … all delicious and home-made. Giovanni brought really great recipes from his homeland back in Europe. And when it comes to desserts, you can choose from home-made cannoli, tartufo, chocolate mousse, tiramisu, vanilla creme brule or poached pear al cioccolato.
 I ate in the Food Emporium (vegan food and Buckhorn were my favorite ones offering huge tasty salads), Cupola Italian restaurant (one of the Restaurant Collection Under the Dome) and drank as many healthy Jamba Juice as possible there. Buckhorn restaurant for huge portions of healthy salads in Westfield shopping mall. There is so much to choose from in Westfield, all the different cuisines from around the world and surprisingly, the Food Emporium is not expensive at all.
This was the first restaurant I had dinner at in San Francisco, it's also one of the oldest and most famous ones in the city. The walls inside are covered with photos of the city patrons, and furnishings from Old San Francisco. Many celebrities come to dine here. And of course me and my friend TJ from Mighty Travels had a yum dinner here too.
As the name suggests, John's Grill offers mostly steaks and seafood but as I am not a fan of those, I picked fresh fish with veggies and potatoes. It was so tasty! And the heaven on Earth, the chocolate dessert with berries was just about to come!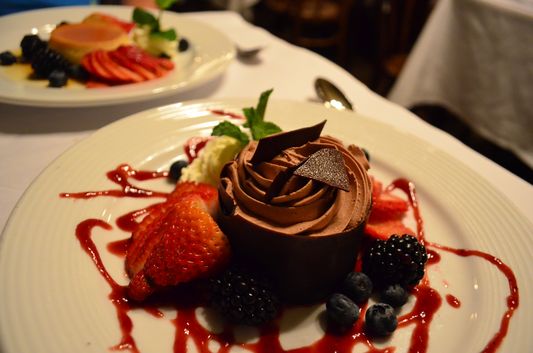 There is no bigger tea fanatic in this world than me, trust me. So when I found out about Lovejoy's Tea Room place, I was happier than a kid getting the favorite toy. I spent a few hours there with a friend of mine Monica I met at the hostel.
It already started as a lovely time when I saw our table – it said Reserved for the Queen. Yay! At least for a second I felt important 😀 But it was the name of the menu we ordered. We could choose tea, sandwiches, and a lot of sweet treats to go along with. Everything was finger-licking, trust me. Thank God for some fresh fruit and organic veggies too!
Tea Room is such a magical place with beautiful tea pots all around, lots of images and colorful tableclothes.
Godmother
The most famous restaurant in Fisherman's Wharf – if you have your City Sightseeing bus ticket, you will get a free dessert with the best fish and chips in town for less than $10. I haven't visited it myself as I do not eat fish and chips but heard a lot of prayers about it.
Looking for some chocolate in San Francisco? Try TCHO chocolate tour where you can sample different kinds of chocolate, all yummy, I guarantee!
Or how about Food Tour in SF to find other great places to eat?
Also check out my list of 47 things to do in San Francisco.