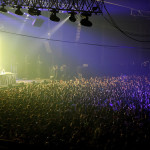 Wondering how to make the summer of 2013 absolutely spectacular? Start making plans now to experience these annual international music and art festivals that consistently supply splendid entertainment!
Here are a few summer parties to get excited about:
Sónar – Barcelona, Spain – June 13-16
The exciting new facilities for the 20th Barcelona International Festival of Advanced Music and New Media Art are as exciting as the 2013 extensive lineup including a 3D show by Kraftwerk and a special Richie Hawkin presentation called ENTER.
Outdoor stages at the SonarVillage in the Plaza del Univers are flanked by the new SonarComplex featuring the SonarDôme with two huge levels of space affording fantastic views of the plaza. Next door, the Fira pavilions are full of food and drink concessions around SonarHall, a large capacity auditorium with comfortable seats and excellent acoustics.
Full day tickets include admission to the Museu Nacional exhibit called "Matter" and the SonarCinema's cutting edge movies and documentaries.
Soundwave – Zadar, Croatia – July 18-22  
In a tiny fishing village south of Zadar, this relatively new 3-day event has become known as the "summer's most beautiful festival" because of its idyllic setting on a wooded peninsula between the Dalmatian Coast and the Adriatic Sea. So far, the 2013 lineup includes reggae favorites Channel One Sound System and innovative musicians like Bonobo and MF Doom.
The Main Stage sits on majestic a tree-lined seafront while the smaller Beach Stage offers a more intimate tone. Other merrymaking venues include the Boat Party that sets out for surrounding islands and Barbarella's Discotheque, a rocking open-air late-night club.
Onsite accommodations range from fully furnished apartments to "luxury camping" villages with cute plywood structures offering built-in beds, storage space and electrical outlets. Camper van hooks-ups are also provided (no fires or cooking permitted) and you'll find restaurants and bars all around the festival site.
Splendor in the Grass – Byron Bay, Australia – July 26-28
Located on rolling green hills just 20 minutes north of Byron Bay, this 18th annual Arts and Music Festival continues to offer a full-immersion event with an impressive 3-day musical lineup.
At the Tipi Forest, top notch DJs blend tunes with interactive art works to encourage patrons to dance together or hold private parties in cozy tipis. In the Global Village, cultural music provides the background for art workshops, healing venues, yoga classes, ritual dances, circus performances and, of course, great ethnic food and drinks.
The Splendour Forum is a popular live discussion program featuring creative thinkers including filmmakers, writers, comedians and tech geeks tackling topics from sustainability to the impact of the Internet. The Smirnoff Cocktail Bar caters to the cosmopolitan crowd while the Red Bull Music Academy encourages musicians to meet and collaborate in workshops, info swapping and jam sessions.
Wireless – London, England- July 12-14
Ogle celebrities like Justin Timberlake, Jay Z and other name-brand performers at this 3-day London event presented on four stages.
Note that tented venues have a set capacity by law, so you should plan to arrive early and stake out a comfy spot since there is no admittance after the show starts, even for ticket holders. The open-air main stage does accommodate large crowds.
Wine, champagne, beer and great nibbles are plentiful and you can only bring in unopened soft drinks and private food. This event is not recommended for children so there's no admittance for under school-aged kids and anyone under 16 must always be accompanied by parent or guardian. Since this is not a camping festival, you'll need to find accommodations at nearby London establishments.