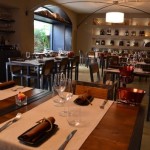 Spending a few days around Western Liguria I was able to taste the best meals in some of the best restaurants. It is not a secret that Italian cuisine together with the Slovak one is my favorite one in the world so trying out different local meals was like heaven to me.
Wondering where to eat in Western Liguria? Here are my picks:
1. Olio Colto in Taggia – a very modern restaurant where tradition embraces modern dishes. Get some of the tastest vegetarian dishes all covered with the local virgin olive oil, or even olive oil ice cream! Everything here is cooked with healthy olive oil which is what I use in kitchen every day too. Yummy veggies and olive oil? I am in.
2. Casino di Sanremo – after cycling around Sanremo, head over to Casino for a posh dinner. Remember, no photos are allowed inside and you have to be formally dressed. Live music will make your time here happier. We asked for fish and it was ridiculously huge! It came on a separate table 😀 Guys also seemed to enjoy wine in Casino. Everything was white around and reminded me of a Slovak wedding. Really nice place to have dinner at and feel like a human.
3. Osteria con cucina Antica in Finale Ligure – traditional dishes (pancakes, pasta, bread and many other meals) from the area can all be found here for affordable prices. And trust me, you will get super hungry after the long trip through the mountains to get to the restaurant. There's free wifi in the restaurant and also turtles and other animals to have a look at.
4. Palazzo Salsole in Sassello – hiking Beigua Geopark or picking up mushrooms there can be tiring so afterwards I recommend you to try mushroom meals in this restaurant. Ask for all the varieties you can get, they are all super tasty! And if you feel very hungry, you should start with different kinds of cheese and meat.
5. Trattoria Ugo in Genoa – when visiting Genoa, take time to have dinner in Ugo which is great for both seafood dishes and vegetarian pasta. I don't like sea food, it makes me sick, but I had the most amazing pesto pasta there. Also the chocolate dessert was super delicious.
6. Osteria il Castello in Millesimo – this is definitely the best place for tasting meals with truffles. After hunting truffles we got our dinner in Osteria and tasted polenta with cheese sauce and truffles followed by a truffle goat cheese dessert. I can still taste it on my tongue. You can even try the Original alcohol made here 🙂
Have you been to Liguria? Any more tips on where to eat in Western Liguria?