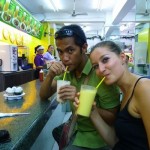 When I was in the Philippines in November 2011, I met this cool guy James – pretty famous one in the Philippines. He runs a travel blog Journeying James. He showed me and my friend Mica a lot more of Manila than we knew before – Chinatown and Intramuros. It was a day of lots of food. And if you know me, you should know that where is food, I love it 🙂 And we also went to the beach to Lingayen, again my thing! 🙂
James is one of those travelers showing us that you can definitely do it on a budget and that you should explore your home country first because it is beautiful!
I hope you enjoy interview with James:
1. Who are you? Tell us something about you.
I'm JourneyingJames, a backpacker and adventurer based in the Philippines. I write about dirt cheap travels in hope to inspire my fellow countrymen to explore our magnificent country. Recently, I traveled the whole Philippines for 100 days, non-stop and spent less than 1,000 euros all-in. I'm writing the book now and hopefully be published by the end of the year.
2. What is your favorite place, city and country and why? (all three of them)
I'm in love with El Nido, Palawan. I love pristine white beaches and spectacular marine creatures in it. I also like Puerto Princesa City because its a chill-type city, tropical, cheap foods and kind locals. Country? Of course, I love my own. But I'm fascinated with any country in Eastern Europe, I don't know why.
3. If you could go anywhere in the world tomorrow, where would it be and why?
France, baby. I want to experience the Parisian life (hahahaha), to kiss the love of my love on top of the Eiffel Tower, to walk along its roads and just enjoy the sights, to drink coffee in a coffee shop, have wine and cheese. Someday, someday…
4. What do you love the most about your home country?
I love the weather, yes its humid but I just love summer and the beach. Ultimately, I love the genuine hospitality of the Filipinos. Everyone here smiles at you.
5. How travel changes you?
Travel teaches me to focus on the essentials. During long-term travel where everything you need is in your backpack, you get to learn that things don't define a person, relationships and character do. You get to trust total strangers, you begin to find good in everyone's heart, you begin to be awed by the simplicity of other's life, you begin to value the intangible. Travel changed me in how I view success and richness. Nowadays, man pride himself with the money he has, the car he drives and his job and his house. But strip all those and what do you get? I have seen people without those, but when you talk to them, their wisdom, their kindness, their heart, those are their success, their richness.
Thank you James for this interview! You gave me goose bumps with your 5. answer! Miss you! All the best with your book 😉
Love,
Alex