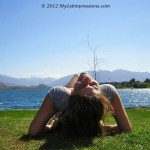 Who are you and what is My 1st impressions about?
My name is Emanuela but everybody calls me Manu. I am Italian, even though I keep moving around the world since 10 years. So far, I have been living in Norway twice, Denmark, Scotland, London also twice, Australia, Holland; "I am a globetrotter with a gipsy heart", as someone definied me some time ago.
During my many travels I always wrote lots of notes of the places where I was. I called them "My 1st impressions", as they were my purest feelings on the spots where I was. I never write anything later, I always write everything wherever I am, in front of a waterfall in Iceland, on a cliff in Scotland, in a neverending valley in New Zealand.
Since last year I decided to share these pages on my blog My 1st impressions, together with the photos I took and keep taking along the road. I love nature, landscapes and unknown places, and I love photography as it's the only way I can show people the beauty I see around the world.
Everyone has a first impression…
When are you going to visit Africa? Tell us more about your project.
In January I will join Vikings Across Africa to start this amazing 6-month journey from Reykjavik to Cape Town, overlanding all Europe and West Africa in a truck together with 15 other crazy people.
It will be the first expedition ever to go from Iceland to South Africa.
Which countries?
We start this trip in Iceland, then from there we will take the ferry to the Far Oer Isles where we shoud stay for some days, then one more ferry to Denmark.
From Denmark we will continue our trip crossing Germany, France and Spain, and in Gibraltar we will leave Europe to Morocco.
In Marocco we will have the first contact with Africa, we will spend some time in the capital Rabat to get some visas, then Fez, Marrakesh and Casablanca.
After Morocco I think the real adventure in Africa will start. We will head to South, into the desert of Mauritania, then Senegal, Burkina Faso, Ghana, Togo, where we wil spend some time relaxing on the beach, Benin, Nigeria and if not possible due to the political situation, we will go around it through Niger and Ciad, to arrive in Camerun. From there we will be heading to Congo and then Angola, Namibia and then all the way down to South Africa.
The route keeps changing as it' s really subject to the political and burocratic situation of some countries where getting a visa can become a mission impossible at times.
What is the main goal of your 6 months there?
I don't have a main goal for this trip. I just want to travel and live this unique experience at the fullest. I am aware I am going to do and to see something unique, that not everybody can do in life. I want to get the most out of this trip and of myself. This is a great chance to unplug with the world and give myself 6 months of unforgettable freedom from everything that in life we consider so essential. When this trip will be finished, I hope to be reacher inside. And there will be some very simple things like hot water or light that will astonish me and that I will appreciate so much more than now and Africa won't be anymore the country we see on the TV documentary but will be a country with a heart, with amazing people and landscapes and nature and life…this is the real richness I want to pursue during this trip, the awareness of the human being.
What do you think will be the most difficult for you while there?
Luckily I don't have any idea what it will be the most difficult part of this trip for me. I usually travel alone and love traveling alone, taking my time and making my own choices, so I guess traveling and dealing everyday with 15 people could be tricky sometimes, but it's a great challenge as well. Some of these people will become great friends and this is also nice and part of the game.
Do you have any doubts? E.g. food or anything?
Not really. Not regarding the trip. I choose to travel for 6 months in Africa and I think when I decided to do this I was a bit conscious of the fact that it's not going to be neither easy nor comfortable. I don't mind. I don't mind to eat less, to have a bath in a cold river, to sleep on the floor in a tent for months and months. This is Africa. I never thought in life to go to Africa before just because I never really saw myself in this kind of all inclusive luxury packets where you go there surrounded by rich people doing safari and stuff like that and coming back not having even an idea of the real life there. With this trip I will have a chance to go to Africa and live its life fully, with all the troubles and risks that it includes, the real life … and I love that.
At the beginning people made me really scared with the malaria issue and stuff like that, but that's part of the game. Imagine people dealing with this everyday, without our knowledge and our means. I go there aware of this risks, but also aware of the fact I don't want to be overtaken by it.
How are you getting ready for such a trip?
At the moment the occupation I am mostly busy with is taking time and care of my friends that I am going to leave, here in Amsterdam, where I currently live.
That's the most difficult part as well, as it's always hard to say goodbye to the amazing people of your life.
For the rest I am slowly realizing this trip will start soon. Very soon. I am almost running out of time and it's becoming exciting. The most important part of the preparation has to do with the vaccinations, and it's almost done. 12 vaccinations in total, I should be ok for a while and for a lot of other trips for the upcoming years.
How are you going to finance your trip in Africa?
I have been working hard and sparing money all year for this trip, minimizing my night outs and fun time. I still had a great time anyway, and with this I also learnt how to have fun with less.
On my website My 1st impressions people can sponsor my trip, by making a small donation either to get a postcard form one of the 20 countries I will be visiting next year or just by contributing with that they want. They are my real sponsors and I love that.
What are you going to do when the trip finish?
No idea! And I love it! I will be on the other side of the planet, in Cape Town, considered by many one of the most amazing towns in the world, and I don't really think I am going to take a plane the day after the end of the trip to come back to Holland. I will probably hang around there for a while, or maybe keep going … I need to go back to South America again at some stage of my life!
Thanks, Manu, for such a great interview. Good luck with those 6 months around Africa.
Love,
Alex