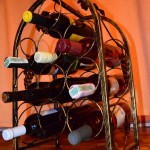 If you read about me, then you know I quit drinking on the 1st January 2009. It was just a New Year´s resolution for the year 2009 but during that year I realized I don´t need alcohol any more. I have not tasted alcohol ever since. Not even as a part of any cake, sweets or anything else.
Why?
There are many reasons. Apart from some family and personal reasons which I don't usually speak about, there are still many more.
1) I never liked beer, nor wine and I only used to drink cocktails, such as Sex on the beach or something sweet like Malibu (yes, I love coconut!) And you usually drink cocktails only when you go out at night, right? Recently, I work on my blogs at night or only go out with people I really like and to have fun with them, I don't need to drink.
2) My dad has a pub in my home town Snina, Slovakia. I want him to earn money and not to spend his money on all the free alcohol he would have to give me if I drank alcohol when I am there.
3) No matter how much I used to drink, I could never get drunk. I am serious. I only laughed more. And I already laugh way too much sometimes. So what's the point of drinking then?
4) I could eat chocolate and ice cream 24/7 so at least I try to do a lot of other healthy stuff. Not drinking alcohol is one of them.
5) Not paying for alcohol, I save a lot of money that I can use on my trips. Woo hoo! I remember when I still used to live in Scotland and I was doing city breaks every week. The others were wasting time and money on drinks and they sometimes spent more than me those days traveling. True story!
6) Each time I wake up next to a guy, he can be sure I will know his name 100% and that I am there because I want to be and not because I couldn't see him properly due to too much alcohol in my blood the previous night.
7) I don't have to spend time asking friends "What happened last night?" (because let's be honest, it does happen regularly to many) and then stay in shock. "WTF! What did you say? With who? What did I do with him???" … But then, sorry guys, if your performance was bad, I will remember it. Unfortunately … unfortunately for you, fortunately for me… so next time I know it will be "NEXT".
No alcohol for me does not mean I cannot visit wine cellars and learn how they produce wine, it is still interesting to me.