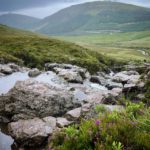 Looking for a wild swimming spot that is off the beaten path? Check out these five locations in the United Kingdom for a refreshing dip. Though they are hidden, these waters are not necessarily remote. In fact, some might be found right on your doorstep. So grab your swimming gear and head to one of these amazing spots!
Porth Wen
Porth Wen is one of the best wild swimming spots in the UK, and it's easy to see why. This place used to be a Victorian brickworks, and its crumbling moss-covered harbour spills into the sparkling rock pools below. The water is refreshing, and the views are simply magnificent. If you're looking for unique photo ops along with a refreshing dip, Porth Wen is definitely the place to go.
Black Moss Pott
Black Moss Pott is one of the most popular wild swimming spots in the lakes, and it's easy to see why. The water is crystal clear, and the rocks around it are perfect for jumping into the water. There are also some lovely pubs around, to reward yourself after a day of swimming.
Watkins Pools
Watkins Pools is one of the most underrated and overlooked wild swimming spots in the UK. Situated in the heart of Snowdonia National Park, just a little way from one of the hiking trails, you may have walked past these majestic pools on your way to Snowdon's summit. This series of pools and waterfalls that cascade down the valley provide the perfect place for a day of wild swimming. The Watkins Pools are a hidden gem and should not be missed.
Tellisford
Tellisford is a real bucolic haven, and one of the few wild-swimming spots that's deep enough for jumping into. The best launch pad is from a nearby tree stump, as the local kids have discovered. The pool by the sloping field and the large weir is a great place to cool off on a hot summer day, and it's also a beautiful spot for a picnic. Whether you're looking for a place to take a dip or just want to enjoy the scenic view, Tellisford is definitely worth a visit.
Lake Windermere
Lake Windermere is the undisputed king of outdoor swimming in the Lake District, but there are plenty of other great lakes to take a dip in. Lake Buttermere is a great option for wild swimmers looking for a challenge. The water is usually quite cold, but the views are stunning. If you're feeling brave, why not dive in and see for yourself? You won't be disappointed!