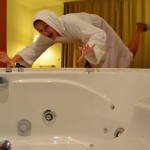 Caldes de Malavella is a charming town in Spain very close to Girona airport, 81 km from France and 89 km from Barcelona. Being a small town, it still offers its visitors a lot of different things to do. Surprisingly, there are more older people visiting but I would love us the younger ones find out about this hidden gem too.
6 things to do in Caldes de Malavella:
1. thermal baths. The town has been known for its healing thermal water since the Roman era. There are a few thermal baths here nowadays. Go soak in Balneari Prats which is my favorite one, get delicious dinner there, enjoy in-room jacuzzi in Acqua room and pamper yourself every day with a different hydrotherapy treatment. I hope you get time to try a shower massage. I swear you won't regret your time spent there. Just check out how I enjoyed Balneari Prats.
2. drink thermal water. The sources of thermal water in Caldes de Malavella are not just good for rheuma and circulation, but also have digestive properties. You can walk the streets of the town and find a couple of fountains around. The famous one is the Fountain of the Mine with 60 Celsius degrees mineral water.
3. history. If you want to get a bit of history during your visit, in Aquae CALIDAE (old name of Caldes) you can do that. Visit the remains of the Roman baths in the city centre and find out more about how it all started here with the thermal baths. Yes, already the Romans were using the properties of the mineral springs in the area.
4. walk. I always say that walking you will keep fit when traveling and also see the most. And in Caldes de Malavella there is a bunch of beautiful buildings everywhere around you that you just cannot miss. Modernist, ecclectic and neoclassical buildings can be found here not just along Rambla Recolons boulevard.
5. churches and castles. In the town itself there is St. Stephen's church built in the Reinnasance and also Sant Grau.
Castle Malavella from the 11th and 12th century (the town got its name after 2 castles – Caldes and Malavella) with its Saint Maurice chapel are definitely worth visiting if you stay for a few days. The best time to visit is 22nd September during the Feast of the Saint when you can go back in histor and see the traditional Sardana dance.
6. Camp of the Dolls. Ever wondered what to do in Caldes de Malavella once you have visited everything else? In spring and aumunt every year just outside of the town, the archaeologists gather to keep digging for important Pleistocene animal and fossil remains. The old volcanic area became extraordinary archaeological site in Catalonia due to the fact how well-preserved all the remains found here are.
And a bonus thing – please watch the sunset. This place is great for those pinky sunsets you usually see somewhere at the beach 🙂
Find out more reasons why I fell in love with Caldes de Malavella when I visited in September 2012.
Thanks to Costa Brava tourism for making this trip possible.