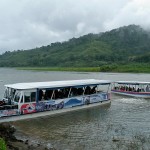 As enjoyable as it is to trek through a continent or travel about different countries in a region, the actual act of traveling can often be a bit knackering. Hours spent in the air, in a vehicle, in a boat, on a train, and on foot are a necessity of travel, particularly when visiting multiple destinations, coupled with time waiting to cross borders, and you may have a travel nightmare on your hands. Of course every area differs when it comes to borders, and, naturally, some countries are much more efficient than others, but there's something extra perplexing about crossing the border when traveling through Latin America. Although crossing borders in Central and South America can be confusing and intimidating, it doesn't have to put a damper on your excursion. Here are a few tips for safely crossing the border in Latin America.
Bring along Plenty of U.S. Currency
Many borders in Central and South America charge visitors border crossing fees. Most borders don't have set fees, so, depending on the day and the mood of the border official, you could pay anywhere from $2 USD to $7 USD to cross. Some countries, such as Nicaragua, charge both an entrance and exit fee, and other nations, like Costa Rica, have no entrance fee, however, you are required to pay $26 to leave. In addition, you must make sure you have exact change to pay border fees. Most borders, especially in Central America, prefer payment in USD, so it's best to carry plenty of American one dollar bills.
Don't Let Language Barriers Hold You Up at the Border
Border crossings in Latin America can be a little scary, particularly if you aren't proficient in Spanish. If you're traveling in a large group with a local, Spanish-speaking tour guide, it's less of a hassle, but you must still be alert and aware of what's going on around you as many borders give you receipts upon entering which you must show when you exit the country or risk paying an exorbitant exit fee. While some of the border officials can seem somewhat intimidating, most are pretty accommodating, though there are some corrupt border officials who may try to extort extra money out of you, however, if you fluently speak the language or are traveling with those who do, you are less likely to be targeted by nefarious border officers.
Stay Vigilant and Observant
Crossing some borders in Latin America are simple and can be comparable to going through customs at an airport, while others can be more chaotic and require you to be more forceful when moving through the border. Locals are quick to jump in front of tourists and other non-locals in line, so you must remain watchful. Also keep in mind that some borders have longer lines than others and the lengths often depend on where and when you enter the country. When I crossed the border into Costa Rica, for instance, it took over an hour to enter the country. Luckily, I remembered to keep critical items like bottled water, sunglasses, and natural oils (used as sunscreen) within reach, which is ideal when traveling across borders. If you normally wear glasses or don't have prescription sunglasses, you should try wearing disposable contact lenses.
No matter when you plan your Latin America sojourn, be sure to plan ahead and be prepared for anything that may arise.