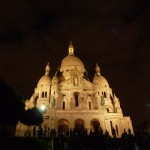 There's no wonder Paris has been denominated as one of the top romantic holiday destinations in the world for centuries. We all know that.
And we also know that the majority of the people visit this super sweet romantic city in couples. I was there for just 3 days on my own and let me tell you, there were moments when I was surrounded by so many couples I was wishing to have someone with me there. Anyone. Even one of my gay friends in order to share the moment!
Anyway, Paris is a destination for everyone. I had fun there as a solo traveler, my friends enjoyed it as couples, and others go to Paris with their kids. I can say for sure that one day when I have my own kids, we will be looking for places to stay in Paris for a city break too. One thing that we will have to keep in mind when we book our room is how close it will be to certain places. Especially with kids, we will need to plan a trip that is within walking distance of kid friendly restaurants and attractions.
However, besides the Eiffel tower, my favorite Montmartre with the view and Moulin Rouge, there's much more to probably one of the most romantic cities ever.
3 things you can't miss in Paris:
1. Disneyland Paris you don't even have to use your imagination to go to the different world. The place does it all for you. From Disney characters, to golf courses, fitness trails and many adventure activities … all that and many more surprises are awaiting you in Disneyland Paris.
2. Chocolate tour – are you one of the biggest chocolate freaks as much as I am? Then Paris chocolate tour is one of the best options for you. I mean, who wouldn't like to eat his way through Paris! There's a bunch of famous chocolate makers around the city and I can bet you will never forget your Paris visit after taking this tour. And did you know since 1995 Paris chocolate festival has been held in the city? Usually it takes place late October and early November so if you don't mind putting up on weight, plan your Paris escape accordingly.
3. Jazz – not a fan of chocolate but you prefer music? How about jazz? Jazz in Paris is so popular that jazz festivals became part of the city. In early March you can visit the Banlieues Blues Jazz Festival and later on in May also the Saint Germain des Press Jazz Festival watching the bands performing live.
PS: Are you on a budget? Check out free things to do in Paris. You'll be surprised at the number of them, there's really plenty.